2022-12-09
Panchavaktram @  Chennai
Panchavatram
Venue
The Music Academy Madras,T.T.K. Road Royapettah, Chennai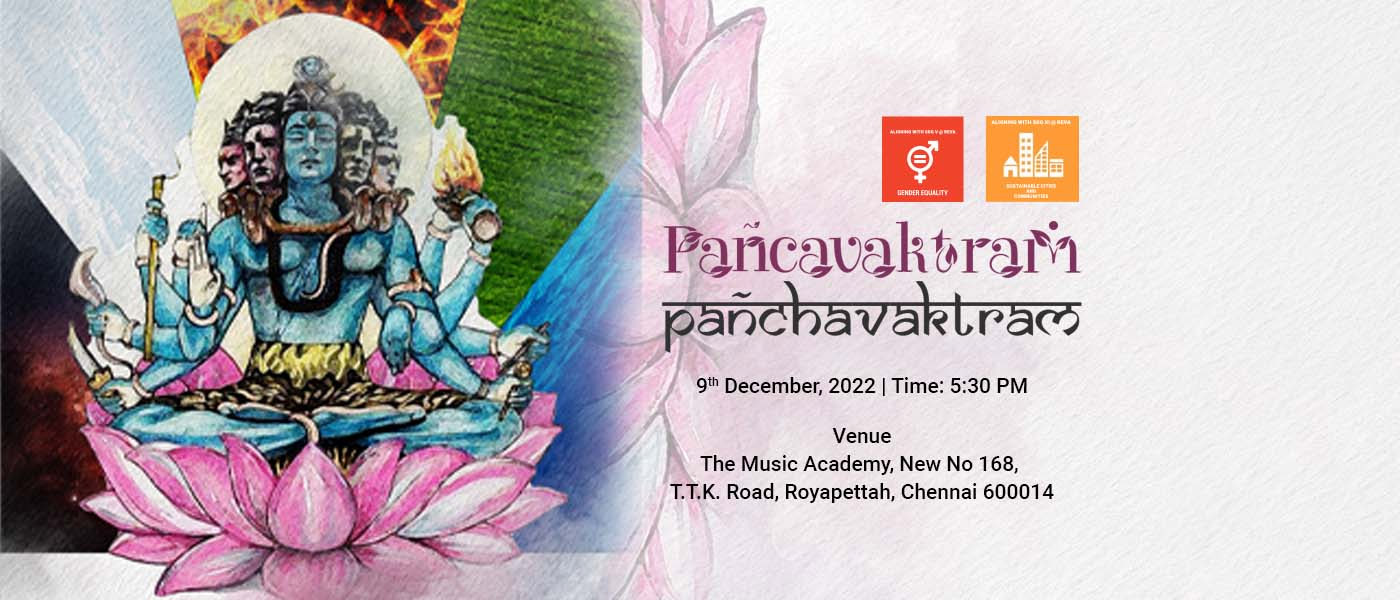 Dear Alumni of REVA
Panchavaktram now in Chennai !!
Following the guidelines of NEP 2020 initiatives and SDG implementation, the leading Social Impact University of India, REVA brings you an opportunity to experience its very own production -Panchavaktram now in Chennai. We has received appreciation for the previous performance at New Delhi, Hyderabad and Bengaluru. Dear REVA alumni residents of Chennai, here is an opportunity to experience the richness of Indian Culture and a mixture of message and entertainment on 9th Dec 2022.
Join us for the spectacular performance at 5:30 pm at The Music Academy, Royapettah, Chennai. Bring your family and friends along.
Do register to the event by sending your confirmation mail to [email protected]
Mention the following details in the mail
Full Name:
Batch:
Programme studied at REVA:
Contact number:
Email id:
Number of members accompanying you:
Looking forward for your presence
Pañcavaktra? is a production by the School of Performing Arts & Indic Studies, REVA University that highlights the five faces of ?iva – Sad??iva and elaborates on them through significant stories from Indian mythology. The five faces are Sadyoj?ta, V?madeva, Aghora, Tatpuru?a, and E??na and they are embodied through the five elements of nature or the Pañcabh?ta - Bh?mi, Jala, Agni, V?yu, and Ak??a.
This production is of tremendous significance in the contemporary context. Pañcavaktra? which is initiated as a commitment towards society and creates an awareness about the art and helps revive our age-old tradition and culture. The piece showcases the confluence of the five elements of Nature that are an integral part of the Indian spiritual identity. As a part of the first phase of our campaign, we will be performing in Hyderabad on the 11th of November, 2022. While in Bengaluru, the performance is on November 16th. The performance in New Delhi is on November 26, 2022.
For more details about the programme, you can contact Datta Pasumarthi: +91970370831.

-16th November 2022
Bengaluru venue-Kuvempu Auditorium, REVA University.
https://goo.gl/maps/K9pFqbxDe4PQL4dY6

Bengaluru Event Registration link: https://buff.ly/3AcNYvc

-26th November 2022
New Delhi Venue- Fountain Lawn, India International Centre, New Delhi
https://g.co/kgs/951ZcR

New Delhi Event Registraction link: https://bit.ly/3ApNHVS

-09th December 2022
Chennai Venue - The Music Academy Madras,T.T.K. Road Royapettah, Chennai
https://g.co/kgs/cqCy5W

Chennai Event Registraction link: https://bit.ly/3ETFWsI

UP COMEING (Guwahati)
Guwahati Venue - Pragjyoti ITA Centre for Performing Arts, MG Road, Machkhowa, Guwahati