2022-10-31
Alumni Interaction & Guidance for Juniors
School of Architecture
Venue
REVA University, Saugandhika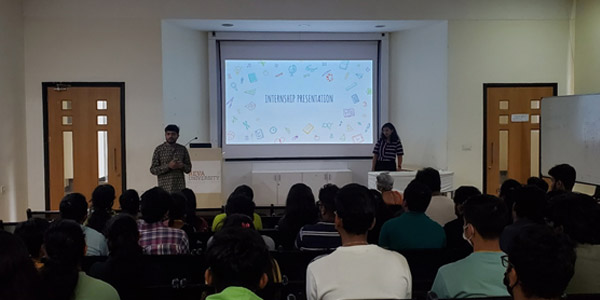 As part of the Guidance given from School of Architecture & REVA University to the student before the internship period, this session was organized for the students to help with better clarity of the upcoming semester.
Objectives The main intention or objectives of this session was to make the students aware of the internship semester and guidance w.r.t work culture and how to handle themselves if exposed to harassments.
Session Seniors Guidance and some Internship Do's & Don'ts addressed by Janak Patel & Janani J.
Details about various types of firms- MNC, Medium and small sized firms
Work culture
Bonding and making connections
Working advantages & disadvantages of each type of firms
Pushing boundaries to expand knowledge
Making mistakes and asking information to learn
Having fun amidst all of the work
Outcome of the Event The session was well delivered by the Alumni, giving the students understanding of work culture and advantages & disadvantages of each type of firms and reassuring them that learning is fun.
I would like to thank the Director Vidya Srikanth for giving us the opportunity to organize this as part of the internship guidance sessions. An extended thank you to our attender Prashanth and the Library seminar in charge.